Private Facilities
Exercise Equipment & Athletic Flooring for Private Fitness Facilities
HIGH-END COMMERCIAL FITNESS EQUIPMENT & ATHLETIC FLOORING
Take your fitness facility to the next level with premium exercise equipment, athletic flooring, deep cleaning, and design services from The Premo Source. Founded by a former student-athlete with an eye for high-end private fitness facility design and renovation, The Premo Source is proud to provide the Southeastern United States with unparalleled exercise equipment and installation solutions. We partner with some of the biggest names in the fitness industry, including Samson Equipment, Ecore Athletic Flooring, and Controlled Products Turf, to consistently exceed our clients' expectations.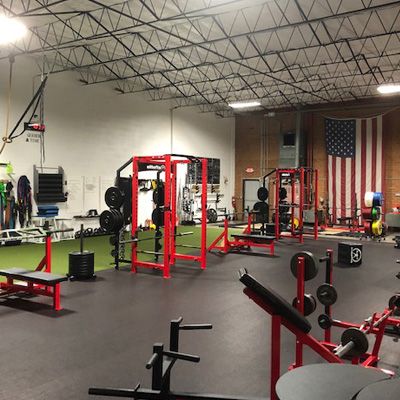 WHY CHOOSE THE PREMO SOURCE FOR YOUR PRIVATE FITNESS FACILITY?
Provider of luxury brands for the highest-end athletic flooring and fitness equipment available anywhere
Free design consultation
1-year installation guarantee
Free deep cleaning for a year with the purchase of any new flooring or equipment
Customization options available — display your company's logo and colors!
MODERNIZE YOUR HIGH SCHOOL ATHLETIC CENTER
Is your high school fitness center stuck in the twentieth-century? At The Premo Source, we can help introduce your fitness facility to the modern age thanks to our state-of-the-art athletic flooring and exercise equipment. Whether you plan on designing a brand new fitness center or you're hoping to upgrade your high school's current one, The Premo Source can help. We have years of experience helping high school fitness facilities just like yours find the right flooring and equipment, and we will be there for you every step of the way — from choosing the perfect equipment to installing it, and we even provide free deep cleaning services for a year after so that you can keep your beautiful new fitness center safe and clean for staff and students alike.
OUR ATHLETIC FLOORING
As the most used piece of equipment in your facility, your flooring needs to be durable enough to survive repeated use, safe enough to minimize injuries, and ergonomic enough to suit the demands of specific training areas. Choosing the right flooring not only protects your equipment and subfloor, but also your wallet.
At The Premo Source, we provide private fitness facilities across the Southeastern United States with three essential types of athletic flooring: athletic turf, athletic rubber, and multi-purpose flooring.
We provide our clients with high-quality athletic turf from Controlled Products, the world's leading manufacturer of synthetic turf. Athletic turf from The Premo Source comes in a variety of different pile heights and polymer ratios and is ideal for:
Outdoor training areas
Weight rooms
Indoor/outdoor batting cages
Indoor functional training areas
Indoor non-infill turf fields
Our high-end athletic rubber flooring is provided by Ecore Athletic Flooring, a household name in the fitness facility industry. We offer a variety of different athletic rubber systems, each offering its own thickness, force reduction (absorption of impact energy), energy restitution (useful return of impact energy), and ideal applications. Some popular applications for our Ecore athletic rubber flooring systems include:
Weight rooms
Cardio areas
Plate loaded and pin-select machines
Dumbbells areas
Athletic training rooms
Indoor tracks
Locker rooms
Baseball and softball dugouts
Multi-Purpose Flooring
Our premium multi-purpose athletic flooring from Ecore allows you to use one flooring material for various parts of your fitness facility, particularly non-training areas. Each multi-purpose flooring system is made from its own unique mix of materials, such as vinyl, synthetic wood-grain, luxury tiles, and more. Private facilities love to use our multi-purpose flooring for:
Gyms
Courts
Office spaces
Nutrition areas
Locker rooms
Athletic training rooms
Bathrooms
Showers
Hydrotherapy rooms
Hallways and entryways
Restrooms
FITNESS FACILITY PLANNING, DESIGN, AND EDUCATION
In addition to our full-range of commercial fitness equipment and flooring options, we can also provide you with premium facility planning, design, and education services from our founder, Bryan Benzor — a former student-athlete who is passionate about commercial fitness solutions. We use high-end technology, including cutting-edge 2D layouts and 3D designs renderings, to help bring your facility to life before installation.This allows you to bring all of your ideas together visually so that you can view your updated or entirely new facility from virtually any angle, allowing you to maximize efficiency and impact. Best of all, we offer a completely free, no-obligation consultation to any facility interested in our services. Mr. Benzor is happy to come to your facility, take a look around, and offer any insights about how you might improve your space, at virtually no cost to you.
OUR COMMERCIAL FITNESS EQUIPMENT
We are proud to partner with family-owned Samson Equipment to provide our clients with high-end, American-made fitness equipment that is built to last, including strength equipment, fitness and strength machines, weights, athletic training equipment, and cardio equipment.
As the top fitness equipment brand in the business, all Samson products are made with the highest-grade materials available anywhere to ensure maximum longevity with minimal maintenance.
Every fitness facility needs high-quality strength training equipment in order to help members train effectively and efficiently. Our strength equipment includes:
Power racks
Benches
Rack attachments and accessories
We offer premium fitness and strength machines to help take your private fitness facility to the next level, including:
Lower body machines
Pillar systems
Cable accessories
Serious fitness facilities require serious weights. We offer a wide variety of luxury commercial weights, including:
Dumbbells
Olympic bars
Bumpers and plates
Platforms
Storage
Bar accessories
Get your members' heart rates racing with high-end cardio and functional training equipment, including:
Treadmills
Upright bikes
Recumbent bikes
EXPERIENCE THE PREMO SOURCE DIFFERENCE
If you're looking to take your fitness facility from acceptable to exceptional, turn to The Premo Source. Our years of experience as one of the Southeastern United States' top commercial fitness equipment and flooring providers has earned us a reputation for greatness, and now you can experience The Premo Source difference fir yourself, when you get in touch with our team to schedule a free consultation. We look forward to helping you make your dream facility a reality.