Colleges & Universities
Exercise Equipment & Flooring for Fitness Facilities
TAKE YOUR CAMPUS RECREATION CENTER TO THE NEXT LEVEL
At The Premo Source, we specialize in providing premier exercise equipment, athletic flooring, and deep cleaning services to college and university fitness facilities throughout the Southeastern United States. Whether you're a D1 school or a small liberal arts college, you need a student recreation center that will keep your students healthy and happy, not to mention attract new applicants. With college and university fitness facilities becoming increasingly impressive, it's important that your school can keep up. Over the years, we've developed a reputation for excellence when it comes to athletic center design, installation, and maintenance, thanks to our partnerships with some of the biggest names in the fitness industry, including Samson Equipment, ECORE Athletic Flooring, and Controlled Products Turf.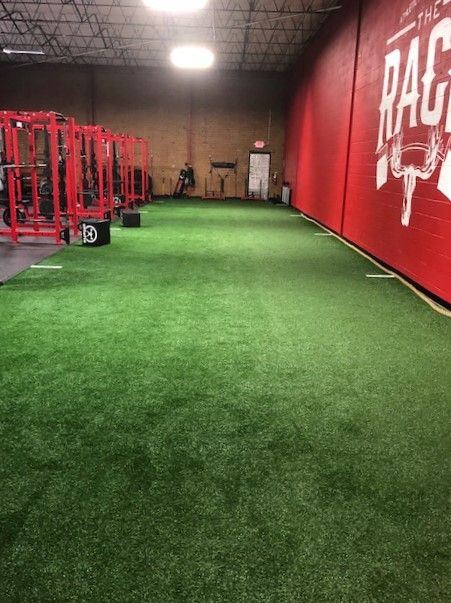 WHY CHOOSE THE PREMO SOURCE?
Founded by a former student-athlete who understands the ins and outs of fitness facility equipment, design, installation, and maintenance
Provider of luxury brands for the highest-end athletic flooring and fitness equipment available anywhere
Free design consultation
1-year installation guarantee
Free deep cleaning for a year with the purchase of any new flooring or equipment
Customization options available — display your team mascot or match your school colors!

Durable Strength Machines & Weights

High-Tech Cardio Equipment

3D Gym Design Renderings Olympic Lifting Platforms
MODERNIZE YOUR COLLEGE OR UNIVERSITY ATHLETIC CENTER
Bring your college or university fitness facility into the 21st-century with cutting-edge exercise equipment and athletic flooring from The Premo Source. We have years of experience helping higher education institutions just like yours update and modernize their fitness facilities. When it comes to fitness facility design and creation, The Premo Source team pays meticulous attention to every detail, from providing mascot-emblazoned flooring for your entranceway to color-coordinating the rubber flooring in your locker rooms. We even provide free deep cleaning services for a year with purchase of new equipment or flooring, so you can rest assured that your sparkling new facility is clean and virus-free for everyone to enjoy.
Our Athletic Flooring
Different parts of your college or university's fitness facility will need different materials, depending on their use. That's why we've teamed up with two of the biggest names in the fitness industry — ECORE Athletic Flooring and Controlled Products Turf — to provide our clients with three essential types of flooring: athletic turf, athletic rubber, and multi-purpose flooring.
We supply colleges and universities with high-quality athletic turf from Controlled Products, the world's leading manufacturer of synthetic turf. Athletic turf from The Premo Source comes in a variety of different pile heights and polymer ratios and is ideal for:
Outdoor training areas
Weight rooms
Indoor/outdoor batting cages
Indoor functional training areas
Indoor non-infill turf fields
Our premium athletic rubber flooring is provided by ECORE Athletic Flooring, a household name in the fitness facility industry. We offer a variety of different athletic rubber systems, each offering its own thickness, force reduction (absorption of impact energy), energy restitution (useful return of impact energy), and ideal applications. Some popular applications for our ECORE athletic rubber flooring systems include:
Weight rooms
Cardio areas
Plate-loaded and pin-select machines
Dumbbells areas
Athletic training rooms
Indoor tracks
Locker rooms
Baseball and softball dugouts
Our high-end multi-purpose athletic flooring from ECORE allows you to use one flooring material for various parts of your college or university athletic center, particularly non-training areas. Each multi-purpose flooring system is made from its own unique mix of materials, such as vinyl, synthetic wood-grain, luxury tiles, and more. Campus recreation centers love to use our multi-purpose flooring for:
Gyms
Courts
Office spaces
Nutrition areas
Locker rooms
Athletic training rooms
Bathrooms
Showers
Hydrotherapy rooms
Hallways and entryways
Restrooms
WE TAKE STUDENT ATHLETICS SERIOUSLY
Whether your school is known for their sports program or you're simply looking to improve overall student wellness, exercise equipment and athletic flooring from The Premo Source can help your college or university earn a reputation as a leader in student sports and fitness. Student athletes from every type of team will love training on our built-to-last strength and fitness equipment and competing on our athletic turf and other flooring options. When you choose The Premo Source as your athletic flooring and exercise equipment supplier, you choose quality that you can trust. Impress visitors and applicants, boost school spirit, and give your student athletes the training facility they deserve with high-end fitness equipment and flooring from The Premo Source.
Our Fitness Equipment
We are proud to partner with family-owned Samson Equipment to provide our clients with high-end, American-made fitness equipment that is built to last, including strength equipment, fitness and strength machines, weights, athletic training equipment and cardio equipment.
Every campus fitness facility needs high-quality strength training equipment in order to help students train effectively and efficiently. Our strength equipment includes:
Power racks
Benches
Rack attachments and accessories
We offer premium fitness and strength machines to help take your student recreation center to the next level, including:
Lower body machines
Pillar systems
Cable accessories
Serious college sports programs require serious weight. We offer a wide variety of exceptional Samson weights, including:
Dumbbells
Olympic bars
Bumpers and plates
Platforms
Storage
Bar accessories
Your university coaches and student-athletes deserve only the best when it comes to athletic training equipment. We are proud providers of a variety of high-quality athletic training equipment, including:
Treatment tables
Carts
Stairs
Seats
Get your students' heart rates racing with luxury cardio and functional training equipment, including:
Treadmills
Upright bikes
Recumbent bikes
CREATE A FITNESS FACILITY THAT EVERY COLLEGE STUDENT WILL LOVE
At The Premo Source, we believe that fitness facilities aren't just for athletes — when you partner with us, we will provide you with the insights, equipment, and installation services you need to create a college or university fitness center that all of your students and staff can enjoy. From strength, to nutrition, to mental conditioning, a high-end campus recreation center will help your students shine in every area of their life. We look forward to helping make your vision of the ideal student recreation center a reality.
GET A FREE DESIGN CONSULTATION