How would you like to achieve all of your fitness goals from the comfort of your own home? Home gym installations from The Premo Source can make this possible for homeowners in the Southeastern United States. We can transform any basement, garage, or empty room in your home into a state-of-the-art workout facility. We offer hundreds of different home gym equipment and machine options to help you personalize your gym to fit your exact needs. And best of all, you will never need to wait to use a machine or even leave your home to access them!
Since our very first day of business, The Premo Source has accepted nothing but greatness when it comes to gym equipment. By partnering with Samson Equipment and ECORE Athletic Flooring, our home gym installation team is able to provide our customers with only the highest quality equipment. If you have been training using that old bench press that you picked up at a garage sale a few years ago, it is time to upgrade. We offer strength and fitness machines that can target every muscle group in your body, and are built with durability to last you a lifetime.
ARE YOU SERIOUS ABOUT YOUR FITNESS?
We support all kinds of family gyms, and have designed and fully-equipped a number of large scale gyms here in Florida, Georgia, and Alabama. However, we understand how crowded and inconvenient these gyms can often be for your personal workout routine. This is why we provide families and homeowners who have a passion for fitness and weightlifting the opportunity to bring that experience to their very own home. Our experienced team is accustomed to putting together 2D layouts and 3D renderings for industrial-sized gyms, and would be happy to do the same for your in-home gym.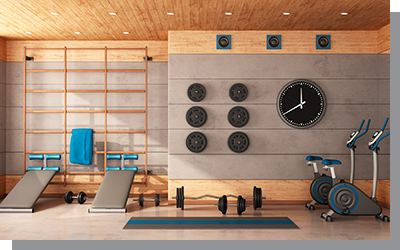 TRUST THE PROFESSIONALS
Designing and installing a home gym is not something that you should attempt on your own. Our installation team can collaborate with you from the very start to design your space into an efficient workout environment, ensuring that there is ample room for various machines and exercises, and that it will look even better than you have envisioned. If you are interested in piecing together your home gym like a puzzle, don't hesitate to browse our selection of Fitness and Strength Machines, Cardio Equipment, and more, or give us a call today! We would love to get started on a 3D rendering for your home gym today.
GET A FREE DESIGN CONSULTATION